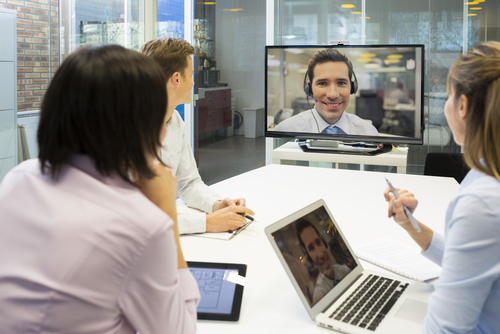 Thousands of people can participate in large conference calls because of advancements in technology, which have made it easier for providers to offer businesses collaboration and conference call sessions without any hassles. Businesses, in turn, will not only be able to increase productivity among their employees, but save money on travel expenses. Providers even include additional features in order to make subcontracting conferencing services more cost-effective for companies as a whole.
This guide offers comparisons in terms of collaboration and integration, ease of use, and cost among nine different conference call providers. These software providers also have free versions that include screen share and video conferencing. Here are the best free web conferencing software providers of the year:
1. Zoom
There are two plans available with Zoom – a paid service and a free service. Compared to GoToMeeting, Zoom's paid plan is less expensive, while the free plan only includes 40 minutes of conference calls. The number of participants is also limited to three. With the paid plan, companies can have as many users as they wish, along with video conferencing and meetings that include extra features. The extra features offer full-screen and dual-screen views, and active speaker view. Participants can also join the conference by simply calling in.
The web conferencing capabilities include MP4 recordings of every meeting, a personal ID for the meeting, desktop or app-specific sharing, a virtual whiteboard, and group or private chats. The screen can even be shared on an iPad or iPhone app.
One bad thing is that Zoom only allows 40-minute meetings, but an unlimited number of meetings can be held. One-on-one meetings are not time limited.
2. Cisco Webex
This platform is developed, owned, and hosted by Cisco, a giant in the networking industry. Webex ranks high among the best video conferencing software available. For one thing, it was one of the very first conferencing solutions at the time. The difference is that Cisco made it even more effective. With the free version, the number of participants is limited to three. Users can share each other's screens. The Cisco Spark platform works quite well with Webex and can be integrated with it.
For small businesses or large companies concerned with security, Webex is a perfect choice, as Cisco knows security well. Spark has extensive encryption abilities. The paid version offers additional features that can also help to keep video conferences secure.
3. Join.me
The Join.me platform is so simple to use, a beginner can use it. The one-click functionality is a motivating factor behind the tools as Join.me expands beyond simplistic office communications. An added layer extends conferences to customers, clients, and prospects.
Screen sharing and conferencing are all that's included in the free plan. The advanced plans have a free trial that includes free audio conferencing, along with a conference call number in the United States and over 40 different countries. Video conferencing is also included. Google Calendar or Microsoft Outlook can be integrated into Join.me for one-click scheduling to organize and maintain invitations. A permanent meeting location is another feature that allows clients to save the address of a particular location to stay in touch with a business. Additional presentations, screen shares, and collaboration are included as part of an online whiteboard feature.
4. GoToMeeting
People easily recognize GoToMeeting simply by its name as one of the most popular web conferencing providers. The free plan as well as the paid plan offer an easy method to host a conference call. Screen sharing capabilities are also included. There is a solution for beginners called a one-click meeting that makes it easy to navigate the software. Users can even start meetings through the GoToMeeting app. Users can initiate meetings using email, chat links, or Microsoft Office programs.
Audio conferencing is all that's included in the free plan, while paid plans include video conferencing. A VoIP voice chat option is included with GoToMeeting's web audio conferencing feature. Conference calls can be configurated by teams to something that suits their needs. The only downside is that the number of people who are allowed to participate in a conference is limited to three. For small businesses, this solution may prove to be ideal. This software is recommended for anyone looking for a web conferencing solution that's quick and easy to use.
5. TeamViewer
In terms of security, TeamViewer is a viable competitor next to Cisco. There are over 1.3 billion devices on its homepage that participate in online meetings and operate using remote support. This platform emphasizes solutions and support, as its features allow users to run a couple of remote sessions at once in multiple tabs on a Mac operating system. The sticky note feature allows users to leave clients friendly messages or to advise them of updates.
TeamViewer's QuickJoin is an interesting add-on in that it allows customers to join presentations and meetings quickly. It can be used without administrator rights or an additional installation procedure. iOS, Chrome OS, Windows, Android, Linux, and Mac also support it. Most devices support TeamViewer as well. Audio and video conferencing and text-based chat are included. Other paid features include Remote QuickSteps, which offers additional shortcuts for TeamViewer's remote support actions. The paid plan also includes good IT and support.
6. Google Hangouts
Google has a variety of apps and solutions including Google Voice, for instance. It's hard to keep up with everything Google has to offer, as they're constantly developing new apps. Google Hangouts and Voice have similar functionalities, but Hangouts can do more than just make a phone call. It's entirely free to use and allows users to send or receive instant messages, send or receive SMS messages, and provides video chats. VoIP calls can also be hosted on Google Hangouts.
Many people don't realize that users can use the Google Hangouts screen sharing feature. Google has stated that Hangouts is the future of telephone products. It's no surprise that there's a wide range of features available. Users will need a Google account to use Hangouts, which is similar to Skype and WebEx. Users must add other users in order to meet or chat online, making Hangouts an ideal solution for small teams that want to use an entirely free program. The only downside is that users can only have a group video chat with up to 10 people.
7. Apache OpenMeetings
While the UI and design of OpenMeetings is minimal at best and it isn't one of the best solutions, its web conferencing is free. Collaborative document editing, instant messaging, video conferencing, and whiteboard capabilities are all included in the OpenMeetings solution. In fact, it has most of the features other competitors have. The app is open-source, which means teams can have a developer customize it to suit their needs.
Recording the audio portion of a session and screen sharing are several features OpenMeetings offers. Users won't have to use their entire screen to do a video conference, as a small portion of the screen can be selected. Users can create multiple whiteboards to edit or discuss files. The whiteboard also has a built-in chat feature, which makes collaboration effortless. The UX has drop and drag features and is quite solid, even though the UI isn't very good.
8. Skype
Skype is a popular conferencing solution that most people have heard of. It is worth using for many reasons. For one thing, it has screen sharing capabilities, a feature not many users know about. On the other hand, Skype's flexibility is weaker than other apps because users have to download software to use it. Users must sign up for Skype in order to use it. They will create a Skype username and download a program. Any user who wishes to participate in a conference must be added to a contact list in order to utilize the web conferencing features.
Businesses can use Skype, but in order to do so, there are different applications that require an Office 365 subscription in order to use them. This is not a wise choice for companies with smaller teams that want to upgrade to a paid version of the software. Skype users can host audio and video conferences with up to 25 other users. This number is significantly higher than many other solutions. On-the-go conferencing through Skype is supported on iOS, Android, or desktop OS applications.
9. ezTalks Meetings
Of all the web video conferencing providers in existence, ezTalks Meetings is one of the best as it includes powerful collaboration tools on its whiteboard that allow team members to view all colleague sketches and notes, in addition to the ability to conduct free high-definition web video conferences. A single web conference can even support up to 100 users – the most of any free platform!
So Which Free Web Conferencing Software is Best?
There are a few available options for users who are looking for screen sharing capabilities as part of a free web conferencing application. The options that are out there are good at meeting most teams' needs. Companies can save a significant amount of money on web conferencing with free options such as TeamViewer, Apache's OpenMeetings, and Google Hangouts. Check out SourceForge's list of the best web conferencing software if you are interested in paid business conferencing solutions.
There are benefits and limitations with all of these options that make several of them worth using. It all comes down to the product that has the kind of features a team needs. Join.me, WebEx, and Google Hangouts are ideal for teams that don't require video chatting with their customers or clientele; however, there are several platforms that may not be suitable for users who need a conferencing application to meet or connect with people outside of their company. Teams should do their homework in order to find features that will suit their video conferencing needs. There are a wide range of solutions included in these apps that might or might not work. It should also be acknowledged that some of the free options include paid options with added features. Regardless, there are several entirely free web conferencing solutions available that will suit a team's needs.
Pricing
The first thing a business must figure out when they're looking for a conference call provider is how much they're willing to spend on their services.
Three factors must be taken into consideration:
The expected participants for each call
The length of the conference calls
How often the conference calls should be held
There are two payment methods available that a conference call provider will offer to the business.
The first method is pay-as-you go, which means that users will only pay for the minutes they use. If a company plans on having only a couple of meetings each month, this may be a good option. On average, conference call providers charge anywhere between 3 and 18 cents per minute. Call-in numbers are toll-free and there aren't any long-distance fees.
The other method is an unlimited monthly plan which provides conference calls without reservations for a fixed monthly rate. This option is suitable for team meetings that meet regularly from remote locations.
There are different unlimited packages to suit a variety of participant and user requirements, which is why several plans are typically listed to help business leaders make a sound decision.​