VoIP for Small Business
Submitted by
webmaster
on Thu, 09/10/2009 - 14:31
VoIP for small business — hosted or premise-based — offers inexpensive domestic and international long distance phone service, more features than a traditional phone system, and the flexibility of remote and mobile access.
Transitioning to VoIP for small business is a decision that can save businesses as much as 50%.
VoIP for small businesses — using the Internet to transmit telephone calls as data packets rather than using the traditional public switched telephone network (PSTN) — is becoming an increasingly popular tool for small and medium businesses (SMBs). It's not hard to see why: Savings, features, and flexibility are the primary reasons VoIP for businesses is growing at double the pace of residential VoIP phone service.
VoIP Savings
VoIP phone service for small business offers lower costs than a traditional public branch exchange (PBX). With the high quality of today's VoIP phone service, its many budget-friendly advantages, and the variety of VoIP service providers to choose from, small businesses no longer see any real barriers in a migration to VoIP phone service. In fact, VoIP phone service is more popular with small or home offices (SOHOs) — which can more easily make the switch to VoIP phone service — than large enterprises. Larger companies often find themselves mired in legacy contracts and systems, making the transition to the inexpensive phone and unified communications (UC) services that VoIP provides cumbersome.
A VoIP phone system can dramatically reduce the cost of long distance phone calls, and eliminate the cost of in-office or local calls altogether. VoIP service providers can offer service advantages such as unlimited domestic long distance, or plans based on allowable minutes. Features that were cost-prohibitive with a traditional PBX often come standard with a VoIP phone system, and offer additional savings in time saved, practicality, and convenience.
How much a company can save with VoIP phone service depends on a lot of factors. One factor is whether a business chooses a hosted PBX through companies such as RingCentral or 8x8, or an on-premises IP PBX.
Hosted PBX
The best VoIP for small business owners is likely to be a cost-efficient, hosted PBX solution. With a cloud-based PBX, the small business owner can ditch the legacy PBX and the local public utility, which generally charges for even basic features such as caller ID and call waiting, and take advantage of mobile VoIP apps, free or inexpensive long distance, and even features such as conference calling and call recording.
IP PBX
An IP PBX offers businesses the advantage of a single, fully-converged network. An IP PBX can cost more upfront than a hosted PBX solution, but over the long term, it can be much more economical. An IP PBX using IP phones can support video, data, and voice on one large and comparatively inexpensive broadband pipe, and IP phones and softphones can eliminate the hassle and cost of moves, adds, and changes to extensions.
Estimated VoIP Savings
Industry experts estimate that domestic and international long distance savings using VoIP for small businesses can range from 20-40%, and videoconferencing savings can be roughly 50%. For more information about the economic advantages of VoIP phone service, check our VoIP savings page.
SIP Trunking
Companies with a traditional PBX who want to take advantage of a VoIP phone system without investing in an IP PBX may choose to install a session initiated protocol (SIP) trunk.
SIP trunking allows companies using VoIP for small business to add additional extensions without incorporating more twisted pairs and crosscuts. SIP trunking also eliminates the need for a VoIP gateway, primary rate interface (PRI), or basic rate interface (BRI).
SIP trunks perform a very specific intermediary function between the VoIP service provider and the PBX system by converting the analog signals to digital and supporting communications between the public switched telephone network (PSTN) and the VoIP provider. Sometimes the SIP trunking provider is different than the VoIP provider. Be sure to ask your VoIP provider if they support SIP trunking.
Business use of SIP trunking grew 88% more in 2011 than in 2010. 42% of American businesses are expected to incorporate SIP trunking by 2014.
VoIP Features
The best VoIP for small businesses is the provider or plan that offers the most desired features at the most budget-friendly price. For small business owners, the desired (or required) features depend on their calling needs. For instance, do they need multiple virtual numbers for easier customer access? Unlimited outbound calls? Do they frequently make international calls?
Even the most basic VoIP business plan often includes a broad variety of useful features, such as:
Call park
SimulRing
Find Me/Follow Me
3-way calling
Voicemail-to-email (audio file attachment)
Voicemail transcription
Automated attendant
Accessing these business features through a traditional telco would be exorbitant for many small businesses. Additionally, VoIP service providers can offer other professional services such as call recording or interactive voice response (IVR) as reasonably-priced add-on features.
VoIP Flexibility
One of the advantages of VoIP phone service over a traditional business plan from a phone utility is the ability to use VoIP from almost any Internet-connected device. For businesses with branches, telecommuters, or sales personnel on the road, a VoIP phone solution offers anytime, anywhere access via laptops (using softphones) and mobile phones. Businesses with multiple branches can also unify their billing statements into one single bill (even with numbers using multiple area codes).
A small business owner might have a relationship with the local phone utility for a landline with multiple extensions, and a separate business plan with a carrier for one or more cell phones. A VoIP service provider enables a business owner to reduce costs significantly by providing VoIP phone service at a fraction of the cost of a traditional telco, as well as supporting mobile access through apps or by allowing a cell phone to be registered as an extension. VoIP phone service providers such as Line2 also offer VoIP customers the opportunity to tap into WiFi or 3G/4G connections to bypass cellular data plans.
Business VoIP's Explosive Growth
According to In-Stat, 79% of American businesses will be using VoIP by 2013 (up 37% from the number of US businesses using VoIP in 2009). In Britain, data shows that 70% of businesses will be using VoIP by 2013 (more than 40% of British SMBs already use VoIP phone service).
As VoIP service becomes more accessible and more easily implemented with cloud VoIP phone service providers (and VoIP consultants to help with the transition), VoIP phone service for small business is the market segment with the largest growth potential. While VoIP adoption is gaining ground faster among residential customers and small home offices, VoIP for small businesses is increasing rapidly, primarily due to the skyrocketing popularity of SIP trunking.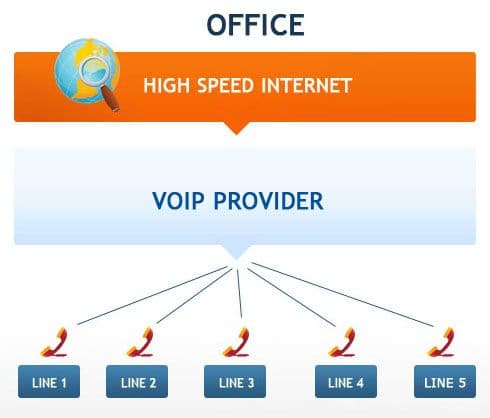 us